Yeh!!!   Sleepy Dog Cabins has a You Tube channel.  We are so excited!!!!
For our first, very own video we are pleased to introduce  Gracie Baron the super model as she engages in sport fishing.
&nbsp
              Going fishing Friday?……..take your kid!
               Stay tuned we will give out some of the best fishing tips
               and  maybe some of Tom's ideas on
                       How to Make a Fortune!!!!!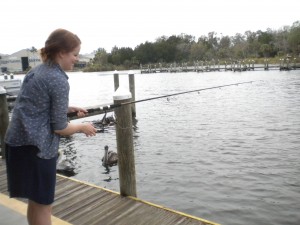 It sure was fun fishing at Homosassa Springs with these beautiful girls.
It is not often we get to partake in the sport of fishing.  What we  do truly enjoy is empowering and outfitting our guests to get in a boat, get out on the lake and drop that line in.  It is so worth it.  Just look at the smiles on these faces.   Please, please take your kids fishing they will always remember it.