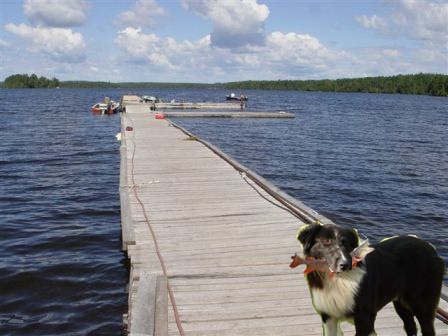 This spring has been so unusual weather wise.  The spring    freshet which normally occurs, didn't due to lack of snow.  This  had kept the water level down.  On April 9th, as we looked out the big window,  we watched the ice go out.  A strong south west wind  pushed the candled ice up against the dock with  accompanying  beautiful sound effects.   So the ice left before the walleye season  had actually closed (April 15).
Now the water has come up a bit with a few rain days.  We are  having some glorious warm weather.  The fishing is great. Some of  the big fish are in  20 feet of water already with the surface  temperature of the lake being 57 F.  The same time last year the  surface water temp was 37 F.
Can't wait to see you.  Drive up safe.
photoshop by Gracie